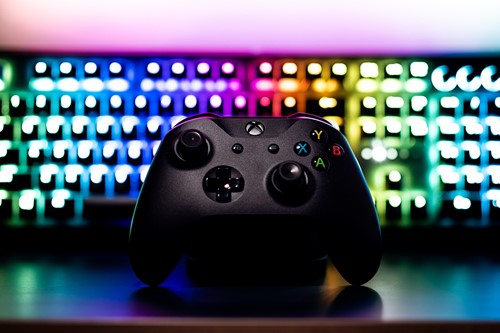 A perfect game room is a lot more than the games themselves. There are many elements that come together to enhance your experience, especially in console gaming. There are the three most important things that every game room should have:
Optimized Lighting
Lighting is important in any room design, but especially so when the focus is digital media. You want to have enough light that you avoid eye strain from screens, but not so much light that you can't see the screen. The answer to this is to light your game room with lots of soft ambient lighting. Rather than large bright lamps that can cause troublesome glare and uneven light distribution, opt for shades that scatter the light evenly through the room. Colorful LED backlighting around screens and other features is a popular choice that can set the mood and compliment your decor—however, relying on that lighting alone can cause eyestrain. Try balancing your high tech LED lights with the softer glow of recessed ceiling lights. Also, if your game room has windows, invest in the proper curtains and shades. While natural light is always a good thing to have, the sun's glare through a window can make it extremely difficult to see your screen.
Solid Speakers
All televisions come with built-in speakers, but that might not be enough for your gaming experience. Because the speakers on most TVs are on the back or edges of the unit, the sound can be easily muffled or distorted by the wall or nearby furnishings. Having some additional speakers available can enhance your gaming experience by allowing you to enjoy the music, hear important dialogue or sound effects and get an immersive experience. That said, you don't have to spend thousands on a complete surround-sound system. There are many affordable but powerful speakers on the market that you can arrange in your room to get the best sound. Lots of speakers can connect to your devices via Bluetooth as well, which means fewer cables for you to hide or tangle up.
Flexible & Comfortable Seating
Depending on your living situation, a comfy couch or chair might be all you need for gaming. However, for multiplayer gaming it's important to have enough seating for everybody to be comfortable and close enough to the action. Lightweight and easily movable seating is a great option for adding to the number of players. Some common and fun options include bean bag chairs, Also, don't underestimate the importance of seating for yourself, either. Even if you prefer to game solo, consider an alternative to the sofa. The time you spend gaming can have detrimental effects on your body if you don't have the right support for your back and neck. Invest in a chair that fits both your body and the room, and you'll be able to keep the fun going for longer without soreness and fatigue. That said, taking frequent stretch breaks is an important part of every gamer's routine!
Every game room is unique, but every gamer has the same basic needs. Making sure you meet your needs is one thing, but enhancing the entire experience is another. Use these tips to take your game room design to the next level.